Salem Preservation
To preserve architecturally and historically significant sites, objects and landscapes in the Salem area, and to promote educational, artistic and cultural activities that will increase community awareness of the importance of the preservation of Salem's heritage.
Located in Salem Ohio and founded in 1994, Salem Preservation is a historic preservation group.
Historic preservation preserves our cultural and historical past. Preserving and maintaining aspects of our past, whether it is home, a barn, a church or a tree allows us to maintain a sense of continuity and relationship with the past. It lets us view the changes that have taken place against a backdrop of what has gone before. This helps us to appreciate where we are in time, to understand how we got here, and perhaps to decide where we should be going.
---
Preservation News
Order a Reilly Dedication Brick
9/12/2022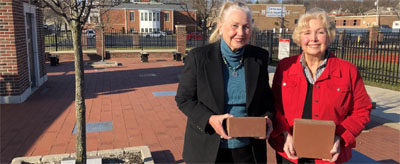 Order a Reilly Brick, for Gen. Reilly's Dedication Park area at Sebo Stadium. You can download this PDF form to purchase a dedication brick. It can be a gift for ourself, a family member, a class or classmate. Gift cards are available at no charge.
---
Events
Local preservation events include Membership Meetings and Programs on the first Thursday of the month at 7 pm, tours, lectures, social activities, and fundraisers. We'd love to have you join us.
Meetings
Our monthly meetings are held the first Thursday of each month at 7 PM . Our board meetings are held the 3rd Thursday of each month at 7PM. All meetings are held at the Ruth Smucker House located in Salem at 271 South Broadway Avenue .
Projects
We have long term projects like the First Ladies presentations, Paint the Town/Operation Paintbrush, Reilly Wall, and Murals of Salem. We also do small and large projects that have a defined time period like Preservation Month in May, advocacy and research.
Join or Donate Page
Join the Salem Preservation or donate to our cause.
Store & Products Page
Books, tickets, pamphlets, and CD's available for purchase.
Property & Site Recogniton Page
Find out how to nominate or research a site for recognition.
Archives Page
Past events and projects of Salem Preservation.